The world needs technology to move ahead. PC Dreams make it happen.We are here to provide the best of gadgets and recycle them taking care of the needs of both human and nature.
OUR STORY
We've always been obsessed with empowering people with technology.
In 2005, PC Dreams started from a small hostel room in NTU where Mr. Tan Ching Hwee started selling PCs. Tan was a well known tech geek and his love towards technology helped him to suggest best of gadgets to all. He kept on selling PCs and other gadgets and soon the PC Dreams expanded in scale. Today, PC Dreams is the one stop place for laptop repairs, laptop trade-ins and restored second hand Macbooks, smartphone, tablets and refurbishing items and online stores for buying exciting gadgets in economical prices.
After 13 years, PC Dreams network now serves five businesses: PC Dreams, PC Dreams Technology, PC Dreams Outlet, Laptop Factory Outlet, Digital Hospital & Dr.Geek.
PC Dreams provides C to B (Consumer to Business) IT re-commerce services such as consumer trade in programs with major global brands such as Samsung, Acer, Asus, Lenovo, Dell, Microsoft and Intel. We also work closely with resellers such as Apple iStudio, Courts, Challenger, Harvey Norman to use our trade in business systems to run their trade in programs. In Year 2020, we are also innovating to work with online retailers such as Lazada to integrate with our trade in programs.
Another part of our business involves the B to B (Business to Business) re-commerce for Enterprise to SMEs. We provide professional ITAD (IT asset Disposition) services, certified by ISO 27001 (Information & Data Security Management) and ISO 9001 (Quality Management) processes. Corporate customers can rest assured that there disposed or traded in devices' data are professional taken care off.
At PC Dreams, we champion the thought of recycling and saving earth from technological waste. We either refurbish the device for sale or we donate them to charity or recycle them with out recycling partners SembCorp and Cemelia. Currently, we are working with CDC, NEA, Cemelia and NTU on various recycling programs for the community.
PC Dreams Technology is the driver for PC Dreams Growth towards the digital era. This division researches and innovates our business process, develops and nurture eco-systems such that PC Dreams stays ahead of our competitor.
PC Dreams outlet provides sustainable reverse logistic business for many brands and distributors such as Acer, Asus, Lenovo, HP, Dell, LG, Ingram, Innovix, Asiapac by handling their DOA (Dead on arrival) devices, open box devices, demo devices, overstock items by providing a predictable cost for proper inventory risk management.
Laptop Factory Outlet offers sales services for all our certified pre-owned devices through our wide retail and online channels. The retail store operates from Bugis Junction and our e-commerce website is laptopfactoryoutlet.com.sg. Our products are also available on Lazada, Qoo10, shoppee, Carousel, Gumtree etc.
Dr Geek provides service packages that protect customers gadget. From data protection for harddisk, screen crack protection for iPhone to all premium gadget security services, Dr Geek does it all. The experts at the Dr Geek are available 24/7 throughout the day.
Digital Hospital (ISO 9001:2015 certified) provides revolutionary repairing and recycling services as products for all IIT gadgets including Mobiles, Tablets, Laptops, and PCs. Our state of the art equipment and experienced experts are capable of complex motherboard chip level repairs, mobile phones glass replacement and even mobile phone memory upgrades. Many of our services are sold us services packages bundled with accidental warranty, extended warranty coverage, backed by 3 international underwriters. Some of our amazing packages are also available with unlimited screen cracked protection for iPhones, mobile device water-proofing services etc. We serve many reputed offices and organisations. We are also currently managing the IT service counter for Courts Singapore for their accidental and extended warranty coverage for IT devices.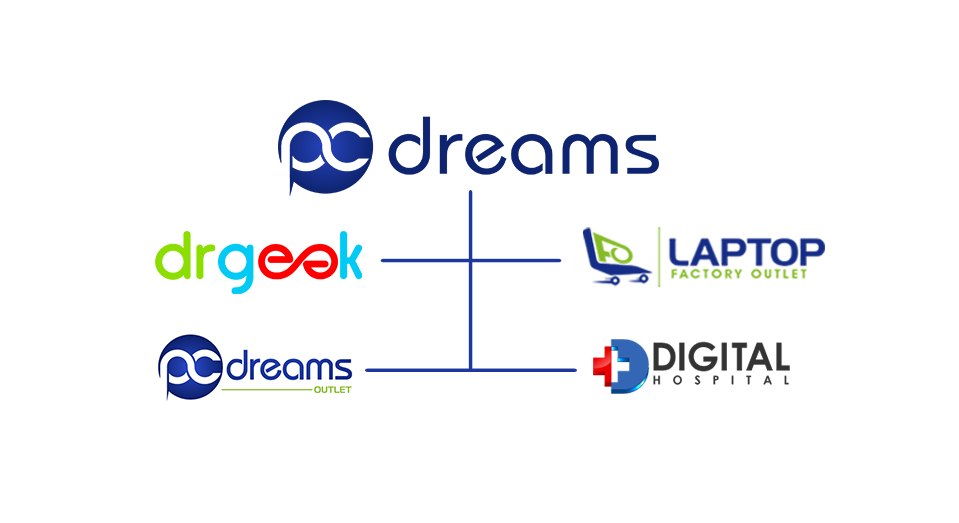 CUSTOMER SERVICE
We love our customers. Since day one, customers are everything for PC Dreams. To serve and help every customer with best of services, we have formed a team of specialists. We are economical and also offer a great range of deals on many exciting products. Often, we go beyond our mainstream services and guide our customers with best of tips to secure their laptops, tablets and gaming desktops and keep them in good health.   Our experts have helped both the public and businesses with their computing needs making us one of the most respected laptop and mobile re-sellers in Singapore.
BUSINESS PHILOSOPHY
            In order to provide our complete IT services, we look to operate on 3 core business principles:
 Speed – Our Customers love the quality work we deliver even under tight deadlines. We realize you don't have time to dilly dally. We set short realistic deadlines to ensure efficient and prompt customer service.
 Quality – We deliver quick services without compromising on the quality. Ever. We keep us updated, take multiple software and hardware trappings for the best possible services for your needs.

 Economical – Our services does not cost bomb. We constantly evaluate our prices to keep them reasonable and best deal for you.
 Happy Workers – We love our staffs, strives to take good care of them by providing a happy working environment and stable career opportunities. So that, you get the best support from the best of people.
MISSION STATEMENT
 To provide the best of gadgets powered with top technology along with the services of repairing and trade-in experience to customers.
 To improve the quality of every employee's professional and personal lives by providing a stable work environment and benefits that protect their future.
 To make the world a better living place by reducing the electronic waste and raise the awareness of citizens of Singapore with the top-notch and consistent recycling services.
At PC Dreams, we always strive to maintain the highest ethical standards are reached by everyone in the company ranging from the shareholders to our customers.          To do this, we look to focus on several factors including:
 Integrity – We will uphold the highest standards of integrity and will deliver on our commitments.
 

Committed – We emphasise on a dedicated focus and commitment to understanding the need of the customers and clients and deliver on their requirements.

 Passion – We are a team of passionate gadget geeks. Be it serving customers, guiding clients, developing a new service or system, we always act with passion.
 

Customer needs – Clients and customers are the first and topmost priority in the Digital Hospital. Everything, how big or small, comes later.

 Embrace changes – We are fast to adapt to change. Technology gets updated everyday. Our services are marked by the flexibility innovative solutions. We quickly adapt to new business conditions and practices to keep pace with the best of industry standards.